About Us
About the Posy Shop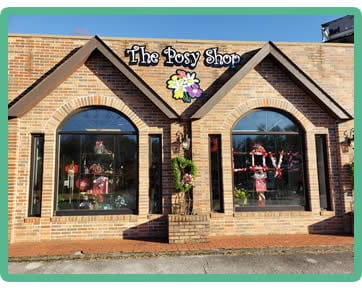 We are a retail and floral shop located in Jonesborough, Tennessee.

We have been serving the Tri-City area for over 40 years. We offer daily delivery to Jonesborough, Gray, Johnson City, Kingsport, Church Hill, and the surrounding area.

We offer a variety of traditional and non-traditional styles of arrangements along with green plants, dish gardens, potted blooming plants and much more!

If you cannot find what you are looking for, here on our website, please feel free to contact us so we can better assist you!

*We urge you to read our Substitution, Security & Privacy, and Satisfaction Guarantee policies prior to ordering.
The Posy Shop of Jonesborough
100 Boone St
Jonesborough, TN 37659
---
Store Hours:*
*Our shop is open:
9:00 a.m. to 5:00 p.m., Monday through Friday
9:00 a.m. to 1:00 p.m. on Saturday.

We are closed on Sundays.
Specialty Services
We specialize in the following services:
Large inventory of fresh flowers for any occasion
Weddings / Wedding Flowers
Sympathy and Funeral flowers
Birthday Flowers, Get Well Flowers, Anniversary Flowers
Plants
European/dish gardens
Modern and traditional flower arrangements
High-style floral arrangements
Silk flower arrangements
Dried floral arrangements
Extensive gift line
Gourmet fruit baskets
Gift baskets
Greeting cards
Delivery Policy
Ordering
The Posy Shop's Satisfaction Guarantee
We are committed to exceptional service and products. If, for any reason, you are not completely satisfied with your gift or its delivery, please do not hesitate to contact us at orders@posyshoptn.com or call 1-423-477-3629.
We use only the freshest flowers available for our hand-made bouquets to ensure that you can send flowers with confidence. And since every arrangement is personally delivered, we offer same-day delivery on most orders.
How to Place an Order
We've designed the our website to make it quick and simple for you to place your order. After you've found the flowers or plant you want to send, click on the item name or image and follow the instructions below.
Shop From a Variety of Categories—Occasion, Product Category or Price—or search by a specific keyword or item number.
Select Your Product and Choose Your Preferences. On the product information page, select how you would like to customize your gift. For example, in some instances, you will be asked whether you want to send your gift as shown or in a deluxe or premium arrangement, or you may have the option to include something extra with your gift like a mylar balloon, stuffed animal or box of chocolates. Once you have selected from the preferences, click Add to Cart. Your gift bouquet will be stored in your personal shopping cart, and you can either continue browsing or proceed to My Cart for checkout.
Proceed to checkout. When you are ready to check out, click on the My Cart link at the top of the page, and then double check all information before selecting Checkout. If you are a returning shopper, enter your Posy Shop Customer ID in the 'Special Instructions' box to place this order on your House Account. If you are a new shopper, fill out all information prompted. You may create a House Account by calling us, and it will require a valid credit card.
Provide recipient delivery information. You will be asked for the recipient's delivery information via Ship To Another Address. This information will allow us to ensure that your bouquet arrives at its destination in a timely manner. At this time, you can also leave any Special Instructions.
Provide your billing information. You will be asked for your credit card information. The Posy Shop transmits all credit card information using the best software available for secure commerce transactions. Please review our Security and Privacy Policy for more information.
Review your order. Review the details of your order, and click the Submit Order button. Your order will be received by us and we will begin creating your arrangement.
Save your confirmation. The Posy Shop will send a confirmation e-mail to the e-mail address you indicated at Log In. Please save this e-mail for future reference.
Order Changes and Cancellations
We are unable to cancel or change orders already in process , en route or delivered. Same-day orders are processed immediately, and usually cannot be changed. If you are calling about an order that is scheduled to be delivered today, call (423) 477-3629.
Inclement Weather
Due to the area we live in there may be times when the weather conditions are not safe for our driver to be out on the roads, especially the roads in the more rural areas. In the case of inclement weather conditions the order will be delivered as soon as the weather permits, in some cases this may be the next day or two.
Because of harsh weather conditions we will not leave flowers on a porch or doorway. For rural deliveries we will call to make sure the recipient is home.
Sales Tax
A 9.50% sales tax will be added on to every purchase coming from our store located in Gray, Tennessee as this is our state sales tax rate. You will have an opportunity to review this amount before submitting your order.
Service Charge
An $8.00 service fee is added to any order placed out of our state or delivery area from our store located in Gray, Tennessee.
Delivery Policy
Every bouquet is personally hand-delivered by an industry professional, and we make every effort to deliver your order as quickly as possible.
Most of our products can be delivered the same day. To assure same-day delivery, orders must be received before 2:00 PM, Monday – Friday, or before 12:00 Noon on Saturdays in the recipient's time zone. Orders received after that time may be delivered the following day.
Regretfully, we are unable to guarantee time of delivery to rural route addresses, hotels, hospitals, military bases or cemeteries. To request a specific delivery time, please type it into the 'Special Instructions' field during checkout. We will do our best to accommodate your preferences.
Before major holidays, we recommend that you place your orders at least five days in advance.
Delivery to Hospitals
We are experienced at making deliveries to hospitals. When placing your order, please be sure to include the hospital name and telephone number, the name of the recipient and room number or ward of the recipient.
The Posy Shop will send your gift bouquet in accordance with facility procedures, as most hospitals do not allow florists to personally deliver to individual rooms. Please note that many ICU patients are not permitted to receive flowers. Please check with the hospital before placing your order.
If you have specific instructions for the delivery of your gift bouquet, please note them in the 'Special Instructions' field during checkout. In all other cases, if the recipient is not at home when the neighborhood florist attempts a delivery, they will either:
Call the recipient to schedule an appropriate delivery time
Leave a note on the recipient's door asking them to contact the florist to schedule a delivery time
Leave the arrangement in a covered, secure area of the home (porch, garage, or other entrance)
Leave the gift bouquet with a neighbor and place a message on the recipient's door with this information
Substitution Policy
Occasionally, substitutions of flowers or containers are necessary due to temporary, regional availability issues. If this is the case with the gift you've selected, our experienced florists will ensure that the style, theme and color scheme of your arrangement is preserved and will only substitute items of equal or higher value.
The Posy Shop uses a leading security technology to ensure that your order will be safe and secure. Please read our 'Security and Privacy Policy' and 'Satisfaction Guarantee' policies for more information.
For your convenience, we accept Visa, MasterCard, Discover, American Express and PayPal. You will have an opportunity to review this amount before submitting your order.
A service fee of $12.00 is applied to all flower & plant orders delivered within the United States. A service fee of $8.00 is applied to all orders delivered locally. This fee applies as a delivery fee. We encourage you to place your order online for the fastest possible service, but if you prefer, please feel free to call in your order. You can reach us Monday – Friday from 8:30am to 5:00pm and Saturday from 9:00am to 12:00pm Eastern Standard Time, at 423-477-3629.
International Orders
We are happy to help you send flowers internationally. Please call us at 423-477-3629 for assistance.
Security & Privacy Policy
Welcome to www.posyshoptn.com! We want you to feel comfortable using this Site, so we have created this Privacy Policy to let you know what information we may collect from you on the Site, and how we may use that information. Please take a moment to review the terms of our Privacy Policy. By using this Site, you agree to accept the terms of our Privacy Policy. If you do not agree to the terms of this Privacy Policy, please do not use this Site. This policy is effective as of July 22, 2008.
Aggregate Information We Collect
We collect aggregate information from time to time, we also may collect general, non-personal, statistical information about the use of the Site, such as visitors' IP addresses, how many visitors visit a specific page on the Site, how long visitors stay on that page, and which hyperlinks, if any, visitors "click" on. We collect this information in order to determine which areas of the Site are most popular and to enhance the Site for visitors. We may also group this information into aggregate visitor data in order to describe the use of the Site to our existing or potential business partners, sponsors, advertisers or other third parties, or in response to a government request. However, please be assured that this aggregate data will in no way personally identify you or any other visitors to the Site. An IP address is a number that's automatically assigned to your computer whenever you're surfing the Web, and can be used to identify your computer. However, when we collect IP addresses, we do so only in an aggregate fashion and not in a way that will identify you personally.
Personally Identifying Information We Collect
In order to access certain information and features contained on the Site, we may require you to register for an account on the Site or otherwise provide us with personally identifying information ("PII"). The categories of PII we collect may include, without limitation, your first and last name, email address, mailing address, home/cell/fax numbers, and general information about you. We may also may collect any other information you provide us voluntarily or through your electronic communications with us. We collect PII in order to fulfill our services to you and to ensure compliance with our policies and applicable law. We may also may use your PII to process requested transactions, customize the services we provide to you and send you periodic communications by email or regular mail. For example, we may ask for your feedback regarding the Site or provide you with promotional or other special offers.
Disclosure of Personally Identifying Information
We may sometimes disclose your PII to our third-party business partners in order to allow them to perform certain services for us, such as, for example, delivering our products, sending postal mail and providing marketing assistance and data analysis. We may also share your PII with other selected companies from time to time. In addition, we may sometimes share your PII with other companies within our family of companies, and they may send you periodic communications that we believe will be of interest to you. If you prefer not to receive such communications from us, you can email us to request removal from our list. As we develop, we may buy other businesses or their assets or sell our business assets. Customer information is generally one of the business assets involved in such transactions. Thus, in the event that we or all of our assets are acquired, customer information would be one of the transferred assets. Finally, we reserve the right to disclose visitor information to applicable authorities in special cases when we have reason to believe that disclosing this information is necessary to identify, contact or bring legal action against someone who may be causing injury to or interference with (either intentionally or unintentionally) our rights or property, other visitors, or anyone else that could be harmed by such activities. This includes our right to exchange information with other organizations in order to protect against fraud and to reduce credit risk. We also reserve the right to disclose visitor information to applicable authorities when we believe in good faith that the law requires it.
Cookies
Cookies are pieces of information that a website transfers to an individual's hard drive for record-keeping purposes. Cookies make web-surfing easier for you by saving your preferences while you're at the Site. We never save credit card information in cookies. The use of cookies is an industry standard — you'll find them at most websites. By showing how and when visitors use the Site, cookies help us see which areas are popular and which are not. Information such as the total number of visitors and pages viewed is most easily tracked with cookies. We may use the information from cookies to make improvements and updates to the Site and to tailor our services to our visitors' needs. You always have the option of disabling cookies using your browser preferences. Most browsers are initially set up to accept cookies. You can reset your browser to refuse all cookies or indicate when a cookie is being sent. However, please be aware that some features of the Site may not function properly or may be slower if you refuse cookies. You may occasionally get cookies from our advertisers. We do not control these cookies. The use of advertising cookies sent by third-party servers is common in the Internet industry.
Links to Other Sites; "Public" Areas
Please be aware that when you are on the Site, you could be directed to other sites that are beyond our control. There are links to other sites from the Site's pages that take you outside our Site. These other sites may send their own cookies to visitors, collect data or solicit personal information. The privacy policies of these other sites may be significantly different from this Privacy Policy. We are not responsible for the privacy practices of these other sites and cannot guarantee the security of any of your personal information collected there.
Protecting the security of your personal information is very important to us. If you register with us, your online account information is protected by a password chosen by you. Access to that online account requires your username and password. We recommend that you do not disclose your username and password to any other person. When you transmit PII from your PC to our servers, your information also is protected by both a "firewall" intrusion detection system (a combination of computer hardware and software that helps keep unauthorized visitors from accessing information within our computer network) and, in certain circumstances, industry standard SSL (secure socket layer) encryption. Once we receive your transmission, we will take reasonable precautions to ensure its security on our systems using physical, electronic and procedural safeguards. Unfortunately, no data transmission over the Internet can be guaranteed to be 100% secure. As a result, while we strive to protect your personal information and privacy, we cannot guarantee or warrant the security of any information you disclose or transmit to us online and cannot be responsible for the theft, destruction, or inadvertent disclosure of your personal information.
Privacy Policy for Minors
We do not knowingly collect information from minors. If you are under 18, please do not provide any personal information to us.
Changes to These Terms
The terms of this Privacy Policy may change from time to time without prior notice to you, so please check this page periodically for any changes. Your continued use of the Site following the posting of changes to these terms will mean you accept those changes.
Questions
Any questions that you may have regarding this Privacy Policy should be directed to:
The Posy Shop
100 Boone St, Jonesborough, TN 37659
Telephone: 423-477-3629 or 423-753-4531
email: orders@posyshoptn.com